DAMO Variable Speed Stone Polisher + 5" Wet Polishing Kit for Concrete Floor / Countertop
Bring the life out in your project with the DAMO variable speed stone polisher. You've meticulously built your form, poured and vibrated your concrete, and are left with nothing but a raw slab of concrete. Are you ready to bring out the beauty and wow factor that your job deserves? With this DAMO polisher watch the "magic" right before your eyes as you transform your masterpiece!
Features:
Variable speed feedback system
Optimized gear ratios
Variable Speed 700 – 3,000 RPM
Ground Fault Circuit Interrupter (GFCI)
Garden hose / faucet adaptor
Lock on switch
Splash Guard
"C" handle
Side handle
Water control valve
Set of DAMO 5" polishing pads
Variable Speed Feedback System – This newly upgraded feature sends information to the motor to keep the RPM at a steady pace whether it is under a load or not. This helps in maintaining an even finish throughout your project.
Optimized Gear Ratio – This redesign allows for increased torque output.
Variable Speed – This is a necessary feature when changing grits to achieve maximum smoothness on your finish. The higher the grit, the higher the RPM.
GFCI – Keeps the operator protected from electricity leaks. Always use caution when mixing electricity and water.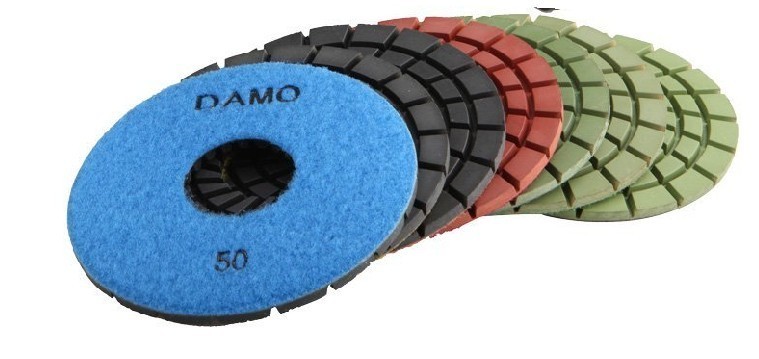 Lock on switch, Splash guard, and side and "C" Handle – Allow for maximum control of the operator, while making it easier and more efficient to operate.
Water control valve – Adjust just enough water to keep the polishing pads from heating up. Running excess water will create a situation where the motor could be exposed to water. If this happens, as a safety feature the unit will shut down and not operate until the motor completely dries.
Set of DAMO 5" polishing pads – Set of 7 pads, grits included are as follows: 50, 100, 200, 400, 800, 1500, and 3000.
Pros:
Cost
Features
Easy to use
5" disk diameter
Cons:
Temporary shut off if motor gets wet, causing down time until the motor dries.
Messy
Too small for doing a large floor

horsepower
Other Specs:
Weight 6.5 pounds
Dimensions 18" x 6" x 8"
120 volts, 800 watts, 7 Amps
Spindle 5/8 – 11
Conclusion:
Whether you're polishing a small bathroom counter, or an entire kitchen, the DAMO hand held concrete polisher is the tool for the job. Because of its size, it can get into hard to reach areas. You can accomplish beautiful results at an affordable price.
The picture above is the finish you can accomplish using this polisher. This is the result of polishing standard concrete mix. This is the same polisher I used in the DIY polishing concrete countertops article. It is a very cost effective tool, and I recommend it to anyone who wants to try and finish concrete for any reason, or application.
If you have any questions or comments, please leave them below and I will be happy to get back to you as soon as possible. If you have any experience with this item and would like to leave your own review, please leave it below.