Garden waterfall pumps come in all shapes and sizes. This article will help you learn what to look for when planning your backyard water garden, so you can create the feature of your dreams.
Garden Waterfall Pumps – Let There Be Life
---
Before we start the discussion, it's a good idea to have your pond on its own dedicated GFCI protected electrical circuit. Some larger pumps can draw quite a bit of power.
First thing to do is decide what kind of pond or water garden you want. Are you picturing a quiet trickle, so you can still hear the birds singing, or a rushing falls that creates a lot of white noise. Remember when choosing a garden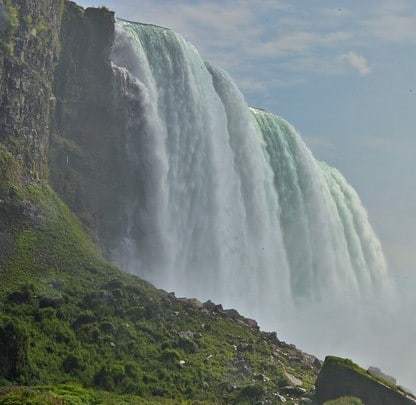 waterfall pump, you can always place an inline flow valve to adjust the rate of water flow. You can always slow the water down, but you can not make it flow faster than the pump will allow, so be sure to get a pump that surpasses your needs if possible.
When I built my pond, I didn't realize the impact a rushing waterfall would have on the noise level. Now my backyard is filled with white noise. It's a soothing sound, but I don't hear the birds singing … or the kids arguing, so it's not all bad!
The Technical Stuff
---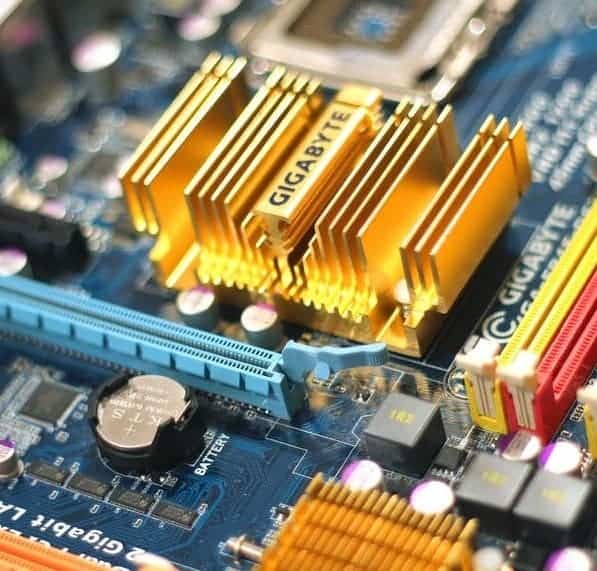 Submersible waterfall pumps are measured by gallons per hour (gph). The higher the gph, the more powerful the pump. There is also a measurement for head height. This is the maximum height that the pump can pump from your skimmer box to your waterfall feature.
Think of it like driving a car. When you are driving down a flat road, you keep your foot on the gas at a minimum to maintain your speed. Now when you approach a hill, you have to step on the gas to maintain the same speed as you ascend. Using this logic, you will need a pump that will push enough water through and up so you can achieve your desired result. This is known as head.
When doing your final calculations, know that you will need 1′ of head for every 90 degree turn in your line, as well as 1′ of head for every 10′ of length in your return line.
Go With The Flow
Depending on the type of waterfall you desire, decide on a flow rate. Then you multiply your GPH by the width of the spillway. Here are some examples of a typical 24-inch wide waterfall spillways at different flow rates:
Slow flow with a 24″ spillway is 100 GPH so: 24″ X 100 GPH = 2,400 GPH
Moderate flow with a 24″ spillway 150 GPH so: 24″ X 150 GPH = 3,600 GPH
Rushing flow with a 24″ spillway is 200 GPH so: 24″ X 200 GPH = 4,800GPH
When designing and building your pond, you also will need the proper sized water line. The larger the line, the less restricted the water flow. In other words a 2″ water line will push more water through it than a 1.5″ water line, regardless of the size of your pump. Your system will only be as powerful as its weakest link. If you have a powerful pump and a small water line your flow will be hindered, as well as a large water line and a weak submersible water pump.
Below is a chart for the recommended size water line to be used for a waterfall return line based on your desired flow rate:

Choosing The Right Pump
---
Using all that we've discussed above, its time to put everything together before you make your choice of which pump to purchase. To calculate it use the following formula:
Height of the waterfall + 1′ for every 90 degree turn + 1′ for every 10′ of line used
This means you will need a pump that has your desired GPH at the given feet of head. For example:
For a moderate flowing waterfall that is 3′ high and has 2 elbows and 15′ of water line, you will need a pump that produces 3,600 GPH at 6.5′ of head. This can be found in the specs of any given pump you intend to purchase.
Building Out Your System
---
Another thing to be sure of, is that your pump is circulating the water completely at least once every hour. To be sure this happens get a pump whose GPH exceeds the volume of your water garden. One cubic foot of space takes 7.43 gallons of water to fill. Knowing that, depending on the shape of your pond, use the following formulas (all calculations are done in feet)

For a rectangular pond: length x width x average depth x 7.43 = Total volume in gallons
For an oval pond: 0.8 x length x width x average depth x 7.43 = Total volume in gallons
This helps to maintain a healthy pond. Also, moving water cuts down on mosquitoes and other pests.
Product Reviews
---
Now that you know what you are looking for, here is a comparison of some popular garden waterfall pumps, submersible and ready for action .  Any one of these will get you started in the right direction.
We are comparing a few different style pumps all with similar GPH to compare. It's good to compare "apples to apples". The head height to GPH ratio chart for each pump is for the whole family of that brand of pump.
I'm only comparing pumps that are in the 5200 GPH range, because that is what I am most familiar with. That is the GPH of the pump featured in the how to build a pond tutorial.
Alpine Pumps
Alpine pumps come in wide array of sizes to meet all of your needs.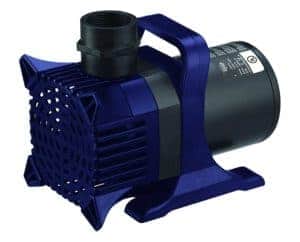 Features:
Submersible water pump with energy efficient design
Ceramic impeller shafts for long life
Vortex impeller has a large pre-filter
Vortex can be dissembled without tools
Available in 2100 to 8000 GPH sizes
10 in. L x 6 in. W x 7 in. H
Pump can be used vertical or horizontal
Alpine PAL5200 5200GPH Cyclone Pump, 33′
---
Aquasurge by Aquascape
AquaSurge 5000
Features: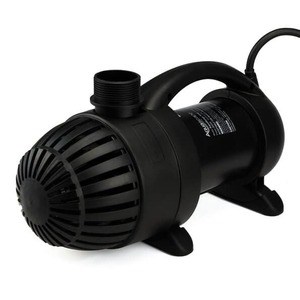 5,284 GPH max flow rate
24′ max head height
Asynchronous motor
360 watts
3 Amps
20′ power cord
1.5″ discharge diameter
dimensions 12 x 5.5 x 7 inches (LxWxH)
3 year Warranty
This pump also features a variable water flow controller, so you adjust flow rate on the fly!
Aquascape AquaSurge 5000 GPH Submersible Pond Pump 91020 with Exclusive BONUS Promotional Magnet Calendar
---
Patriot
Aqua Pulse 5200 GPH Hybrid Drive Submersible Pump – Up To 5,200 GPH Max Flow
Features: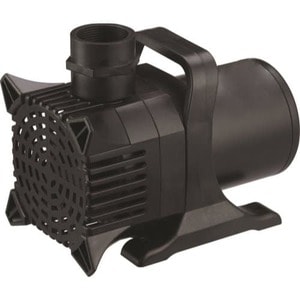 High flow, energy efficient hybrid drive technology combines the high flow characteristics of a direct drive pump with the energy saving efficiency of a mag drive pump
Asynchronous drive motor can be controlled with variable speed controller (not included) that permits you to increase or decrease pump flow as needed
Impeller passes solids to .25″. Engineered for 24-hour continuous use; overload sensor prevents burnout
Contains no oil; completely safe for fish, wildlife and aquatic plants
2-year manufacturer's warranty
Aqua Pulse 5200 GPH Hybrid Drive Submersible Pump – Up To 5,200 GPH Max Flow
Monsoon by Anjon Manufacturing
MS5200 5200GPH Submersible Fish Pond Pump (This is the pump used in how to build a pond project)
Features:
Engineered for 24 hour continuous use, Passes solids up to 1/4″ in diameter because of the vortex impeller for tough-torque flow.
High quality seals for long and efficient pump life.
Power Cord length 30 feet, Overload sensor shut-off protection to keep pump from overheating or burning out.
Full 2-year warranty, Contains no oil – Fish safe.
420 Watts, 5,200 GPH at 5′ – 24′ Max Head, 1.5″ OutPut.
Passes solids up to 1/4″ in diameter because of the vortex impeller for tough-torque flow
Overload sensor shut-off protection
Side By Side Comparison of Features
---
---
It's YOUR Vision
---
Whether you decide on a babbling brook, or white water falls, your garden waterfall pump is truly the heart of your project. It's what brings your garden pond to life. This is about you and your vision of the little piece of paradise you will be creating. If you have any first hand experience with any of these products, or have a suggestion for a better one, please leave a comment or question below and i will be happy to get back to you as soon as possible.  Best of luck with your projects!