Ignite LED Lighting by Anjon
FREE SHIPPING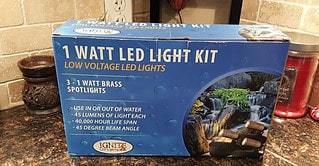 When I purchased my pond kit, it only came with one submersible light. I was happy at the time, but now that everything is up and running, I wasn't more. That's the thing with this hobby, there is always one more thing you HAVE to have, and more lights in the water are no exception!
This is a 3 light kit that can be used in or out of the water. It comes with all the hardware you would ever need for just about any application. There is a base and ground spike, along with a post or tree cleat for mounting each light. I used them without any hardware, just placing them in the rocks and hiding the wire.
These are very well-made. They are made of solid polished brass, and have some weight to them. This is a three light kit. The lights are strung together in linear fashion with 5' of wire in between them. The LED lights are of the soft white variety and give a warm glow above or below the water.
Energy efficient, each light is 1 watt producing 45 lumens of light. Bulb life is 40,000 hours. That's 13.5 years, if they ran for 12 hours per day!
This kit comes with one 12-watt transformer, and a photo cell which turns the lights on and off based on darkness. Here (link to Amazon) is he best place to get this.
PROS:
+ Includes 3 lights
+ Includes photocell, for automatic on at dusk, off at dawn
+ 40,000 hour bulb life
+ Made of polished brass
+ Includes 15' of wire from last light to photocell, then another 4' from transformer to outlet
+ All mounting hardware is included
+ Warm natural light
+ Energy efficient 3-watt system
CONS:
-The lights are all strung on one line together
-Lights using the photocell stay on all night.
-Need a separate timer if you don't want them on all night
Final Verdict
Backyard water garden gives the Anjon Ignite LED Lighting system 4.75 out of 5. The only reason it's not a perfect 5 is for the simple fact all three lights are strung together. This limits their placement. However, one way around that is to use multiple kits for all your lighting needs. That is exactly what I may do in the future.
Check for the most up to date price here (Amazon link). Get them before the season starts, so you can enjoy them all summer long!
This is an awesome lighting system, that will hold up for years with solid dependability. Unlike a lot of the other lights on the market that are made of cheap plastic, you can feel the solid quality. I highly recommend these lights to anyone looking for a submersible lighting system that won't break the bank. If you have personal experience with these or any other types of submersible lights, or simply have a question please leave a comment below and I will get back to you as soon as possible.