Outdoor Rattan Furniture
So, you've done all the heavy lifting. You've planted all your flowers and plants. The gardens are weeded and mulched. You are finally at that point when it's time to relax and enjoy the fruits of your labor. When you look around, the closest thing you have to a comfortable chair is an old tree stump. You need to add some finishing touches to your outdoor living space. Time to get some comfortable furniture to sit back in and just enjoy your space.
Before you settle on authentic rattan furniture there is a few things you should know. Rattan and wicker are sometimes used interchangeably. The fact is that rattan is actually the material that the furniture is made of, where wicker is how it is woven together. Rattan is an extremely strong woody vine that grows in the jungle. It is know to reach heights of 100 feet or more. The woody vines vary in diameter from one to three inches. The vines are then steamed so they can be shaped and woven.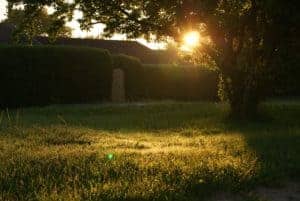 There is no doubt that rattan furniture is beautiful, however the problem lies with where it is used. If it is left out in the direct sun it will fade and start to break down. The natural rattan would be best suited under an overhang, or on a back porch where it isn't exposed to the directly to the sun. This furniture is very versatile in that it can be used indoors or out, you just don't want to leave it out on your pool deck all summer.
The set below is a great alternative to authentic outdoor rattan furniture.  It's not just inexpensive garden furniture, this set has tremendous value.  That's probably why it's a #1 bestseller.
Lowest price: Amazon
If all you are looking for is the look of rattan, there are many synthetic alternatives that can stand up quite well to the summer sun. This solid 3 piece bistro set below for example, is the perfect size for a small deck or patio yet the chairs are wide and comfortable. The chair dimensions are: 30″ deep x 36″ wide x 31″ high. They have a powder coated iron frame, so they are built to last. The beige cushions will go with just about any decor and are made of weather resistant polyester fabric.
Who is This For, really?
First let's look at our first criteria, size. Is size important? That's the age old question that's been puzzling man for centuries… Ok, get your mind out of the gutter, I'm talking about family size.  On average what size group of people do you entertain? If it's just you and your significant other, then perhaps all that is needed is a quaint bistro set made for two. Just large enough for two large cups of coffee to sit by the water garden and enjoy in the morning sun.
Bistro sets come in all sorts of styles, like the one below for a more elegant modern feel. Picture yourself relaxing at the end of the day with a nice bottle of wine enjoying the beautiful sunset. The cushions are beige weather resistant fabric. The table and chairs have an aluminum frame, and the chairs have excellent lumbar support.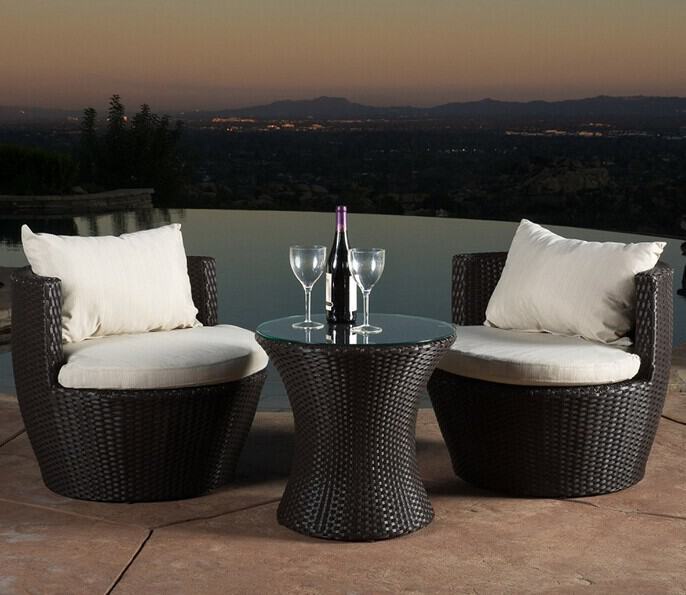 If you have a large family and need room for everyone then we are talking a whole other animal. Maybe you do have a large family, but you and your mate need that quiet time away from everyone, then again I go back to the bistro set.
Get Peace By Design
This sends a message to the others that you need to be left alone. Most of the time this works, and that's coming from experience. When the kids see my wife and I at the small table they don't bother us. There is no place for them to sit and join us. It's a clever technique called the un-vitiation. The kids get the picture wink, wink. There are lots of sets to choose from. If the total wicker look isn't your thing then how about these sturdy sets? Both are made with a powder coated steel frame. The table has a tempered glass top. Seat dimensions are: 24″D x 24″W x 28″H The reversible cushions and pillow are made of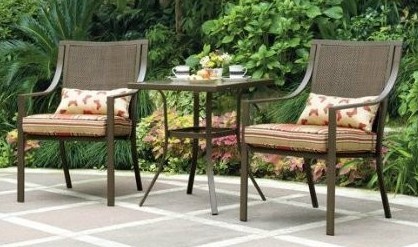 If you don't have many people to entertain on a regular basis… you need to make more friends! All kidding aside, you will need enough seating for your typical band of guests. If you're single you still may have a few friends over at a time, my suggestion is having enough seating for four at all times.
Where do You Entertain Most?
When people come over, or you are relaxing outside, where do you most often wind up? Are you out on your patio, under a large shade tree, out by the pool, or by the edge of your pond or fountain? These are all important because they will play a role as to what type, and how large your furniture set should be.
If you find yourself on your covered back porch, then you could use authentic rattan furniture. It will hold up nicely and suit you well. If space allows, get the largest set you can comfortably fit in your space. The wooden chat set below is the perfect addition to any patio or deck. It creates its own conversation corner in your outdoor space.
Once you have your location set, the next thing to take into consideration is your climate. Do you live in a warm climate where the furniture you get can be left out year round? I live in a place where we get to enjoy all 4 seasons. That means packing my outdoor stuff away for the winter months. Do need something that can stand up to winter and not have to be put away for the season? There are some pretty sturdy sets out there but they cost quite a bit more. If the ease of maintenance is the key for you then the price might not bother you.
Something For Any Lifestyle
No matter what your taste, there is an outdoor furniture set for everyone. Whether you live on a farm with rolling hills, or a high rise with a tiny balcony, you can find something to meet your taste. I hope you found this article helpful. I would love to hear from you. Please leave a comment, or question below and I will get back to you as soon as possible.