Patriot
20 x 25 Large Koi Pond Kit 5500 GPH Pump Big Bahama 26 Inch Waterfall and PondBuilder Skimmer LH2
Backyard garden pond kits are the easiest way to get started creating your perfect backyard retreat. There are lots of choices and sizes available. Hopefully this review will help you choose the right backyard pond waterfall kit for you.  The pond featured in the DIY tutorial was a kit. The specs can be found below. If you aren't a seasoned professional, it takes a lot of the guess work out of selecting the right equipment. Another reason to go this route would be the assurance that all the parts will go together, and you have everything you will need to complete your project.
Included with this kit:
20' x 25' 45mil Anjon Lifeguard EPDM pond liner
20' x 25' Underguard geotextile underlayment
Big frog Eco drive 5,500 GPH pump
26" Big Bahama filtering waterfall
Pondbuilder 8" skimmer
25' of 2" flexible pipe
waterfall foam
1 submersible light
1 check valve
Starter bacteria
All necessary fittings, hardware and installation instructions
This kit will build a typical 13' x 18' fish pond with an average depth of 3'. The perfect size to keep fish. This will be a 5,250 – gallon pond. Keep in mind it's easier to maintain a larger volume of water than a smaller one due to the fact that less water allows for big swings in the health of the water and temperature.
20' x 25' 45mil Anjon Lifeguard EPDM pond liner – This is the choice of professional pond builders and do it yourselfers alike. This pond is warranted for life as long as it is used in conjunction with the provided underlayment.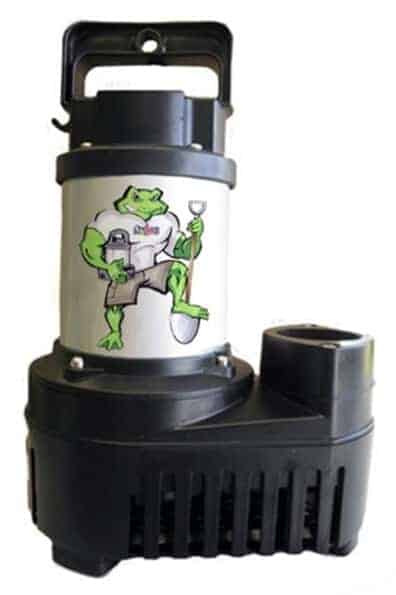 Big frog Eco drive 5,500 GPH pump – This pump has high quality seals, and uses no oil so it is safe for fish. Contains an overload sensor to prevent pump burn out. It is engineered for 24-hour continuous use. Low energy consumption, and will pass through objects up to ¼".
Big Bahama filtering waterfall – The BB2600 is from Atlantics' pro series. It offers a 2" bulkhead for maximum water flow. This unit provides biological water filtration. The bio-tech mats help in creating ecosystem balance. This unit can be easily hidden into the landscape, while at the same time giving you ease of access which aids in routine maintenance. Comes with a lifetime warranty for the enclosure. Dimensions: 34.5" L x 25" W x 23" H
Pondbuilder 8" skimmer – From Pondbuilders' Elite series, these are designed to skim away any debris before it has a chance to fall to the bottom of your pond. This skimmer offers 2 stage mechanical filtration, when working in conjunction with the biological filtration provided by the waterfall unit, creates a perfect balance for a crystal clear pond. This skimmer box houses the pump and protects it. The Pondbuilder skimmer also comes with a natural cover lid to blend into the surrounding landscape.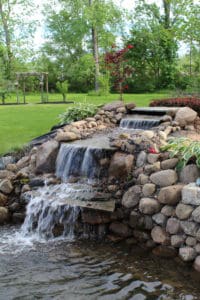 Waterfall Foam – This is essential when building your pond with a waterfall. The foam is used to make sure the water flows over your falls, and not behind it. Also it is vital to add to the stability of your stone and rock work, stabilizing as you build. The dark grey foam is easily camouflaged into the landscape.
Submersible Light – This extends your enjoyment of your water feature into the evening and night hours. Low energy consumption and bright light. Watch your fish swim at night.
Check Valve – This attaches to your pump to prevent water from flowing backwards from your waterfall into your skimmer box if there is ever a power failure.
Pros:
Cons:
Realizing you should have gone bigger!
The Verdict:
This Kio pond kit truly is everything you need to get your pond up and running besides the rocks. Above is a picture of what can be accomplished using this pond kit.  When priced individually this kit would cost upwards of $1,600 and that's not even including all the pipe fittings and light. Save yourself time and money, and do what I did. Purchase a pond kit for your project, and start building your at home getaway today! If you have any questions or comments, please leave them below and I will get back to you. Best of luck on your future projects!