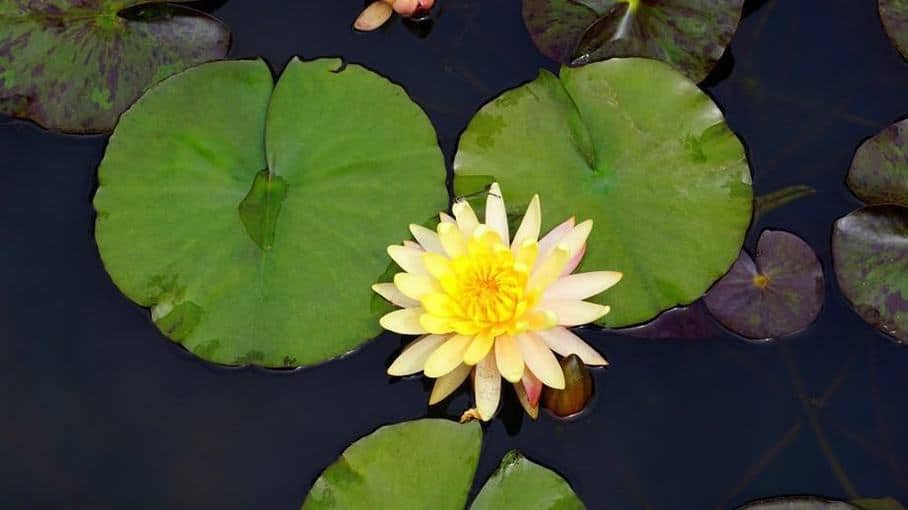 My goal is to help you achieve a crystal clear pond with as little effort as possible, so you have more time to sit back and enjoy it. The pond you have created is beautiful yes, but unlike a natural pond, it lacks the introduction of fresh water. In nature a pond is fed by a stream or spring, constantly introducing a fresh water source. As a result of that, other water is flushed away, taking with it waste and other toxins. Your pond is a closed system and therefore needs a little help to keep the ecosystem balanced. Here are some products that will assist you in doing that:
Sludge
This is a problem that can take over your pond. It can also cause unnecessary stress for your fish. This nasty stuff, made up of debris, fallen leaves and dead algae that winds up in every nook and cranny of your pond. It robs the water of oxygen while its decomposing.

API Pond Sludge Destroyer
Sludge Destroyer is safe for pets and wildlife. This product is a super concentrated blend of barley and bacteria that removes sludge build up. It breaks down fish waste, leaves, grass clippings, and dead algae. When used on a regular basis this product will cut down on maintenance so you will have more time to enjoy your water garden.
Check here for the most up to date price (affiliate link to Amazon).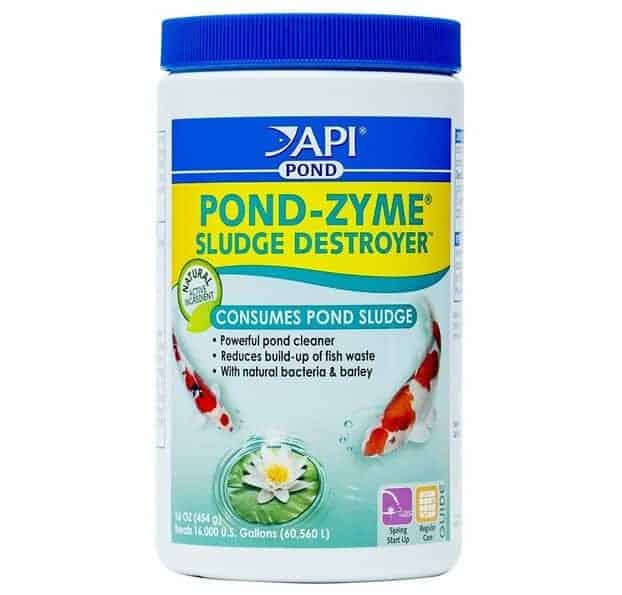 Oase Pondovac 4 Pond Vacuum
If you've tried the sludge remover and it just isn't working fast enough, or you pond is extremely built up with sludge, then a pond vacuum may help you achieve that clean pond you dream of without draining the water, disrupting the ecosystem. This will remove pine needles, leaves, fish waste and excess dirt. Suck up waste and leave the discharge line in the lawn. This vacuum is safe to use on a pond with a liner, or a stone / rock bottom.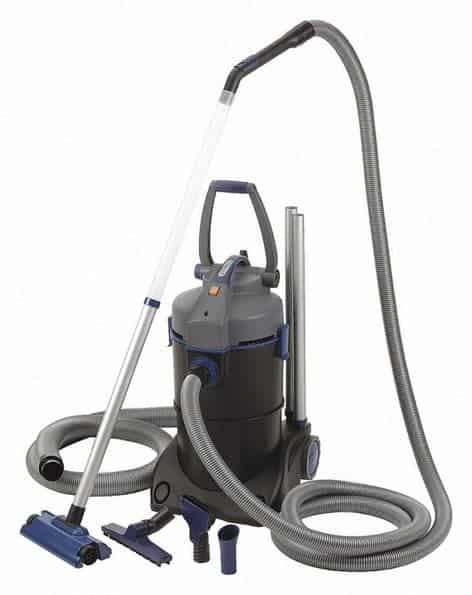 Barley straw
This is a natural algae preventative. barley straw does not kill algae, it only prevents it from growing, Just add this to the water as a preventative measure. As the barley straw decays it releases chemicals that are known to stop algae from growing. This is a very cost effective way to control the algae in your pond. Each of these bales will treat 1000 gallons for up to 5 months.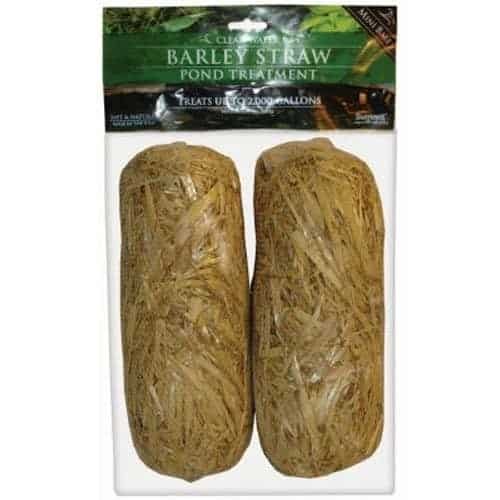 These work surprisingly well and I recommend them to all my clients. Pick yours up here (Amazon link) and keep your water clear all season long.

UV Clarifier
If you already have and algae problem and want to clear the water without the use of chemicals, a UV clarifier is the way to go. The Ultraviolet light (link to an article I wrote about UV lights) breaks the cell walls of the algae as it passes through the clarifier thus destroying it. Depending on the severity of the problem, the water should clear in 3 to 5 days, sometimes it can happen overnight. The model below is sized to sterilize 3,000 gallons. This is the size used for the pond in the DIY how to build a pond article.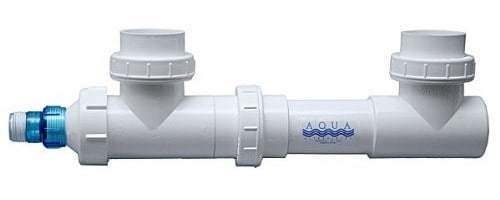 Pond Master Test Kit
This kit has everything you need to keep your pond healthy. It measures pH levels, ammonia, phosphate and nitrate to help you provide optimum water conditions to keep your pond at its best. This kit has enough supplies to run 500 tests. Simply add the specific test solution to your sample and compare the color with the provided chart. This kit is essential to make sure your water is at its best. Even if you eliminate algae, you may still have problems you are unaware of.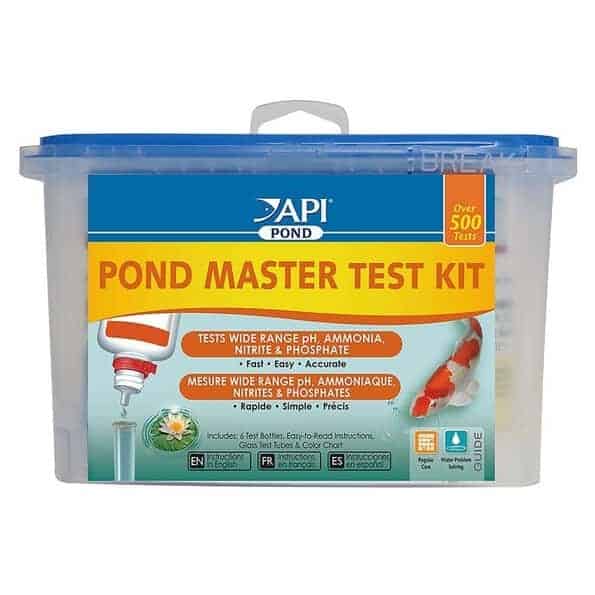 Be sure you have the best quality water with the proper PH so your fish and plants will not only survive, they will thrive. Get your test kit here (Amazon link)

5 in 1 Pond Test Strips
For a quick glimpse into how healthy the water in your pond is, these strips are easy to use. Use these for weekly monitoring of your water.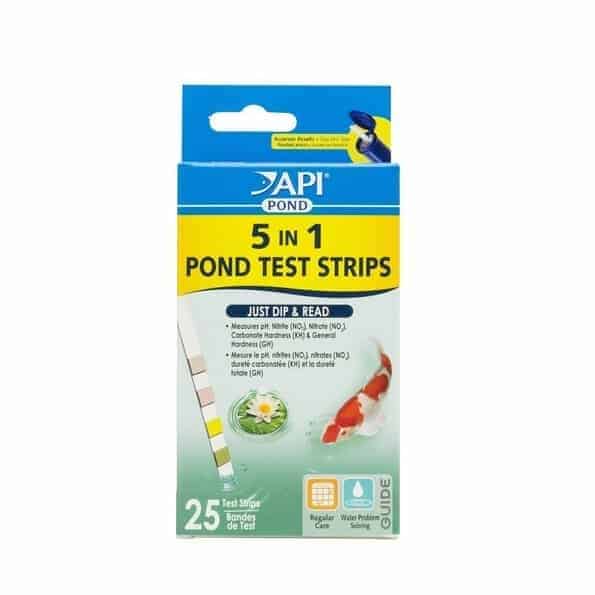 You can pick them up here (link to Amazon for the beast deal) and give yourself the assurance that you have great water quality.

Chlorine Remover
This is a must have for any pond owner. Use it every time you add public water to your pond to keep everything safe from harm. Depending on the size of your pond 10 oz treats 1000 gallons. If you are going to do a water change, this is necessary for the safety of your pond. Be sure to use it before adding any beneficial bacteria. The chlorine in the public water will harm the bacteria you add.

Get some before your next water change here. (Amazon link)

Beneficial Bacteria
This should be added on a regular basis throughout the season to keep your pond running smoothly. It will help with the breakdown of fish waste and boost your biological filter to help maintain balance in the ecosystem. The item below will treat one acre that's 4 – 6 feet deep. Use once a week to give your pond that extra boost. One container will last an entire summer depending on the size of your pond.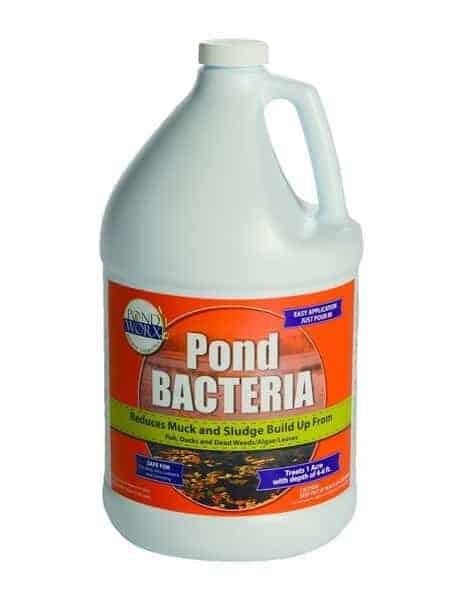 If you aren't using a pond vacuum to remove excess waste, this is the next best thing. Get some before your pond gets out of hand. Here (Amazon link) is the best place to find it.
In Conclusion
I hope this list of pond maintenance supplies has been helpful. The goal is to keep your pond looking its best with as little work as possible. With the use of these products you will spend more time enjoying your pond, and less time maintaining it. If you have any experience with pond maintenance and would like to share what products you use, I would love to hear about it. Please leave a comment below and I will be happy to get back to you as soon as possible.