These small garden pond ideas prove good things do come in small packages.  Ok, you see all these wonderful pictures on Pinterest, Facebook, or even on display at your local garden center.   It's got you thinking, "why can't I have that?".
This is the sort of hobby where you can start out small and scale up as you go. Perhaps jumping right into something and spending a couple thousand dollars isn't how you want to start out.  If you want to test the waters (pun intended) before diving right in then these smaller, more budget friendly kits may be exactly what you are looking for.
Budget friendly pond kits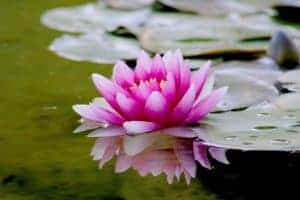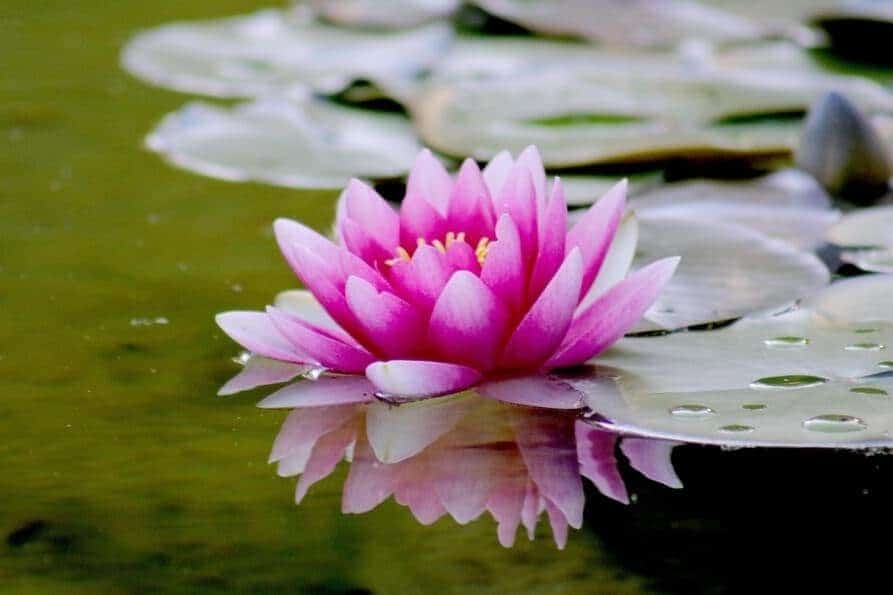 So what do I mean by budget friendly?  First let's define exactly what "budget friendly" means.  Obviously this is a relative term, but for the sake of this article I'm talking a range of prices between $100 and $500.  At these prices, getting your hands on your own back yard pond is definitely within reach.  Let's see what the best options are for building a pond a budget.
$100 or Less
At this price point you can create a small water garden for planting in.  Most species of aquatic plants do quite well in container gardens.  All that is required is a large pot with no drain hole in the bottom, and then simply place your plants in and above the water.  Occasionally the plants will require some plant food to obtain the required nutrients.  You could also decide to put in a few small goldfish.  This will bring your garden to life!
What you get for the money:
Large Vase or Planter (without a drain hole)
Aquatic plants
bamboo return with circulation pump
Aerator (if desired)
Small goldfish… see your local pet store for feeder goldfish.  They are inexpensive and will bring your container garden to life!
I've put together some products to help you get going.  This will help you to "get your feet wet" and put a water feature just about anywhere.
$100 – $200
Stepping up your price point a bit may get you started with a complete pond starter kit.  You could also get a pump and small fountain for this price.  A rigid liner would even be able to house some small gold fish.  This set up can be made to look natural depending on your creativity and desire to make it blend into the landscape.
If space is at a premium for you, then this is your ticket for sure!  I have seen many smaller ponds that look amazing, all because of the plantings around them.  The more greenery used, the more natural they look.  Depending on your climate, you may be able to get away with a few small goldfish to inhabit your new garden all year long.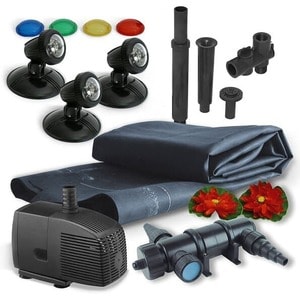 What you get for the money:
14' x 14' pond liner up to 1,200 gallons use our pond calculator to see actual dimensions
UV filter to kill any algae and keep the water clear
850 GPH pump
12" rise fountain
3 lights with transformers
Click here for best price and availability

Follow the same steps as the how to build a water garden guide, just on a smaller scale. You will be enjoying the ambiance of the sound of moving water in no time.
$300 – $500
This will be the last level within our price point.  With another small price increase, you can step up to the next level.  Within this price range you can outfit a very nice small pond.  This kits available at within this range will give you complete kits with a flexible liner and everything else you may need to get started.
Like I said earlier, you can get a nice starter kit with just the essentials, then add on other things in the future.  For example, it's better to get a kit with a better pump, or larger waterfall rather than one that comes with lots of lights.  You can always add things like lights later.  My advice, get the best bare essentials that will fit your budget.  Then get the accessories later down the line.
The kits below have everything you need to get you going and create an amazing water garden, complete with waterfall.  This is the same company that I purchased my pond kit from.  There are four of these kits that fall into our budget friendly category.
Go Big
Depending on your budget, I would recommend getting the largest one you can afford, as long as you have the space for it.  All of these kits come with the same hardware.  What you get for the money:
EPDM liner (link to my article on pond liners)
liner underlayment
1,200 GPH pump
8″ wide waterfall
10″ skimmer
15′ of 1″ hose
All necessary fittings
Skimmer and pump have 5 year waranty
2 year warranty on the pump
1 watt LED submersible light
Beneficial bacteria
The only difference between kits is the size of the liner and underlayment that comes with each kit.  That's where the prices differ.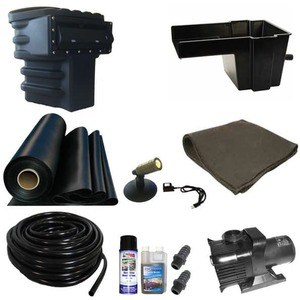 This is the smallest kit they offer.  Do not be deceived by the size of the liner.  Although it is a 8′ x 10′ liner, it will create a 270 gallon pond that is approximately 4′ x 6′ with an average depth of 1.5′.  Keep that in mind when you are looking at different options for your pond.
This size will get you a 400 gallon pond that is 6′ x 6′ with an average depth of 1.5′
This size will get you a 6′ x 11′ 750 gallon pond with an average depth of 1.5′
Finally this kit will get you an 11′ x 11′ pond with an average depth of 1.5′.  This is a 1,300 gallon pond.
Another thing to keep in mind when sifting through all your options is the depth of your pond.  If you don't make it as deep, you will be able to go bigger, however if you go deeper, then your pond surface area will shrink.
You will not regret going bigger.  That's one of the biggest complaints from people is they always wish they would have gone bigger.  Now, the installation of these pond kits is exactly the same as the how to build a pond article.  Just follow the steps and you will be enjoying your waterfront property in no time.
I highly recommend one of the 4 four kits above.  They come complete with everything you need to get set up and running without breaking the bank.
Conclusion
So there are some small garden pond ideas to get you going on the right path. Create the "backyard" of your dreams for less than $500.
No matter where you live there is always room to create a relaxing getaway to reenergize your mind body and spirit.  Whether you live in the city or the country, bringing elements from the outdoors into your life is a great way to relieve stress and decompress after a long day.
What kind of water garden setup do you have?  Any comments or suggestions would be greatly appreciated.  Please leave them below so others can benefit from what you have to say, or advice you want to give.  I will be happy to answer any questions you may have, leave them below and I will get back to you as soon as possible.