Eliminating Stress – Finding Inner Peace
---
There are plenty of healthy ways to find inner peace.  Are you feeling stressed? Would you like to eliminate, or reduce that stress without any pills or chemicals? Then an at home get away is the solution you have been looking for. The ultimate goal is to create a peaceful, relaxing environment, that allows you to step away from the fast paced world we live in. The following are some dangerous results from stress.
Cognitive symptoms of stress include:
Constant worrying
Racing thoughts
Forgetfulness and disorganization
Inability to focus
Poor judgment
Being pessimistic or seeing only the negative side
Sources: Department of Health and Human Services: "Stress and Your Health." American Institute of Stress: "Effects of Stress." Helpguide.org: "Understanding Stress." © 2017 WebMD, LLC. All rights reserved.
Do you find inner peace on a daily basis? This is vital to your overall health and well-being. What better way to eliminate stress, and finding inner peace than, enjoying something you have created? Therapy in your own backyard!
Something that requires little maintenance, unless that is what is desired. Something that gives personal joy. For me, the joy is in the maintenance. Adding a new type of plant or some new fish. Watching all my plantings grow and flourish. An environment to ground myself and forget about all the worries of the day.
If you think you can never have a backyard water garden without spending a small fortune, you're wrong. There are unlimited backyard retreat ideas. There is a pond or water garden for any budget. Even if you desire an extravagant one, you could do it a little at a time until you reach your desired result. Just to put it in perspective, the water garden featured in the build a water garden post was two years in the making. It is still not complete.
My First Water garden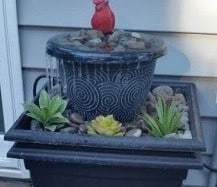 ---
This was nothing more than a couple flower pots placed one on top of the other with tubing running through the middle. The tranquil sound of water dripping 3 or 4 inches on to river rock. Although it was small, it was still effective as a soothing sound out on my back deck. Here is a list of materials I used. The cost was under $50.00.
Two flower pots, one larger than the other
Tube of silicone
¾ plastic tubing
Bag of river rock
Small garden pond pump
A water garden like this is virtually maintenance free. Just be sure there is enough water in it, plug it in and enjoy
Easiest Path to Peace
Depending on your drive and how much effort you want to put into it, it's important to understand a few things before you begin.
Keep in mind that a small garden pond will be harder to maintain than that of a larger pond. It is easier to keep equilibrium in a larger body of water than a smaller one. Small changes will affect the smaller pond quicker and harsher than a larger one. For example: it takes longer to boil a big pot of water rather than a small one using the same amount of heat. Don't be intimidated by a larger pond. If you go bigger, you won't be disappointed. I never hear people say … "I wish I went smaller" it's always the other way around.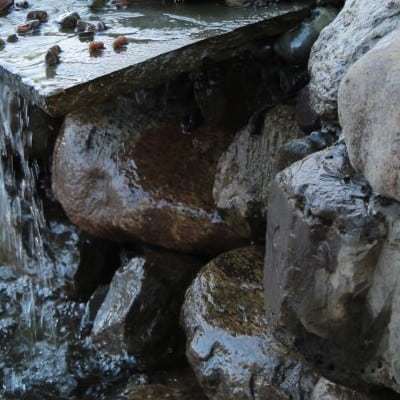 There are countless options depending on the size and sound you want, and space you have available. If you only want a water feature in your garden, then perhaps a pond-less waterfall is your desire. It's almost the same setup as that with a pond, but instead a reservoir is created to house your pump. This is a more maintenance free approach.
Pond-less waterfalls are beautiful and provide the same soothing sounds that you would achieve with a traditional setup, without the worry of algae build up, or feeding the fish. Not that feeding the fish is a chore. In fact, for me there is nothing better than after a long day at work, to come home, relax and enjoy feeding my fish.
More Than Just Moving Water
---
If you are going to keep Koi, remember that they grow quite large. It is misinformation that they only grow to the size of the pond. Koi will keep growing until they reach their full size. They could reach up to 36" in length given the proper conditions. Koi also need a pond that is deep enough for them to swim up and down. This gives their fins proper exercise. If you are going to keep Koi be sure your pond is at least 36 inches deep. Don't keep koi if your pond is less than 1,000 gallons.
If you have a water garden that is less than 1,000 gallons, koi are not the only type of fish to keep. There are many species of goldfish that do quite well in a small pond. When I say goldfish, I'm not talking about the kind you win at the fair.
Shubunkin goldfish are a calico color, similar to koi. Average size is about 5 inches, but they have been known to grow as large as 18 inches, with a life expectancy of 10 – 15 years. These colorful fish would be a wonderful addition to any size pond.
To Sum Up – Don't Wait
Your health and sanity depend on how well you can manage the events in your life. Your path to inner peace is right in your own backyard.  If you found this post helpful, please leave a comment below.  If there are any other topics that are relevant that you would like discussed, please let me know and I will include them in future posts.  As always, thanks for stopping by, and best of luck on all your future projects!